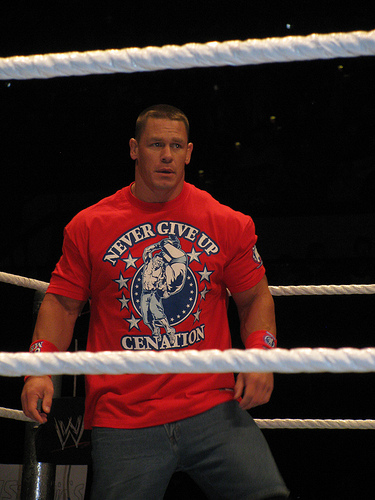 How Much Does John Cena Weigh?
John Cena weighs close to 250 pounds.
How Tall is John Cena?
John Cena is approximately 6'0" in height.
About John Cena's weight:
John Cena is popular in the wrestling realm. He has also played in a few movies recently. He played a role in The Marine, 12 Rounds, Legendary, Fred the Movie, and Punk'd. He has also been in a variety of other television episodes. Cena also is a singer and rapper.
Within the wrestling arena, John has won twenty championships in the WWE. He has also won the world champion thirteen times in addition to many other awards.
John Cena weighs in around 250 pounds. He probably consumes at least 3000 calories (or more) a day following a body builders plan of eating. Protein is extremely important as well as following an intense eating style which is healthy.
Body building and working out are done on a regular basis. He works out at least five times each week doing weight lifting. Wrestling has also been a big part of John Cena's life. As a wrestler, it is highly important to stay fit and eat right. He uses and endorses a variety of energy bars and energy products.
John also enjoys making wishes come true. He visits children who are ill and grants them wishes. He has followed through with the Make A Wish program and offered his appearance over 300 times. He loves to help others in need.
Photo Information: This photo is provided by and given credit to Snerkie on Flickr.com. To read more about Creative Commons Licensing, please visit here.