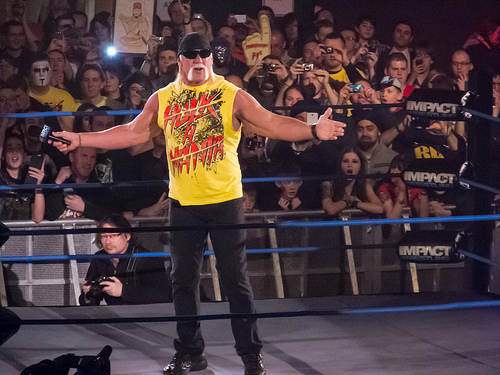 How Much Does Hulk Hogan Weigh?
Hulk Hogan weighs close to 295 pounds.
How Tall is Hulk Hogan?
Hulk Hogan is approximately 6'6" in height.
About Hulk Hogan's weight:
Hulk Hogan is one of the most famous names in wrestling. Hulk's birth name is Terry Gene Bollea and he is currently semi-retired from professional wrestling. He has also spent time acting, being a television personality, and musician.
This pro-wrestler has appeared in some of the following films: Rocky III, Goldie & the Bears, Gremlins 2, Mr. Nanny, Thunder in Paradise and The Secret Agent Club. He has also appeared in Assault on Devil's Island, Walker – Texas Ranger, and Black River.
Hogan is a twelve time world champion, six time WWE champion, and a six time WCW champion. In his long career of professional wrestling he has maintained a very rigid lifestyle of working out and body building. He has spent endless hours in the gym strength training and heavy weight lifting as well. Hulk weighs in around 290 pounds for his six and half foot stature.
Have you followed Hulk Hogan over the years? Do you think he follows a higher protein diet like many wrestlers? How many calories a day do you think Hulk consumes? We would love to hear your comments about Hulk's weight and exercise lifestyle!
Photo Information: This photo is provided by and given credit to simononly on Flickr.com. To read more about Creative Commons Licensing, please visit here.