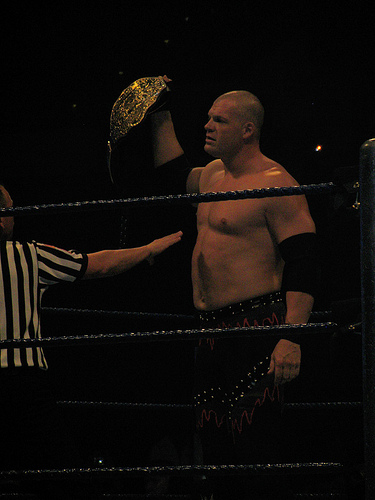 How Much Does Glenn Thomas Jacobs Weigh?
Glenn Thomas Jacobs weighs close to 325 pounds.
How Tall is Glenn Thomas Jacobs?
Glenn Thomas Jacobs is approximately 7'0" in height.
About Glenn Thomas Jacobs weight:
Glenn Thomas Jacobs, better known by his professional stage name of Kane, is a professional wrestler and actor in America. Several records have been won by Jacobs in his professional wrestling career. He is currently signed on with WWE (World Wrestling Entertainment).
During Glenn's acting sessions, he has played roles in the following: See No Evil, Smallville, McGruber. He is also working on See No Evil 2 which will be released in 2014.
Kane was actually born in Spain, but graduated in Missouri. During his school years, he played football as well as basketball. He has followed an exercise regime most of his life which includes working out at the gym.
While looking at Glenn's weight, it seems he could lose a few pounds. In many of his pictures he does not have six pack abs. He may not really be classified as overweight for his weight and height, but he appears to have some room for improvement. It is unknown what Glenn's eating habits are.
Do you follow Kane, or Glenn Thomas Jacobs, in professional wrestling? Do you think he has room to improve his physical appearance and lose some weight? Please leave your comments below!
Photo Information: This photo is provided by and given credit to Snerkie on Flickr.com. To read more about Creative Commons Licensing, please visit here.