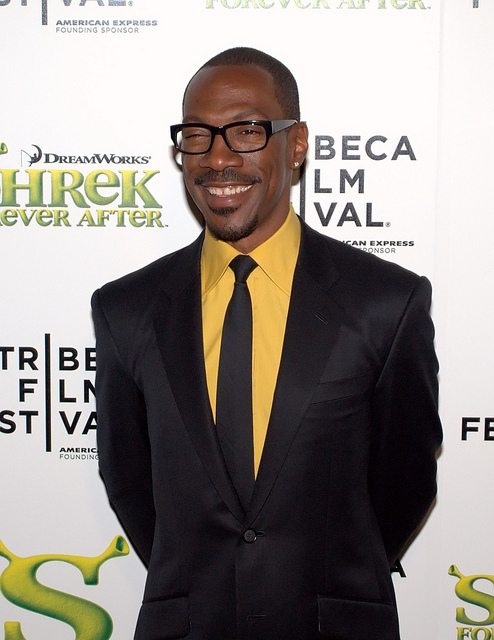 How Much Does Eddie Murphy Weigh?
Eddie Murphy weighs close to 170 pounds.
How Tall is Eddie Murphy?
Eddie Murphy is approximately 5'9" in height.
About Eddie Murphy's weight:
Edward Regan Murphy, popularly known as Eddie Murphy is one of the greatest comedians of all time and also one of the finest of actors of his age. Apart from stand-up comedy and acting, the African American celebrity also has left his footprints in the world of writing, singing and direction.
Eddie stands at the fourth spot in the list of highest grossing actors in the United States. The most noteworthy of his movies are Dreamgirls, The Nutty Professor, Trading Places, Beverly Hills Cop series and 48 Hrs. He also upholds tenth place on the list of the 100 Greatest Stand-ups of All Time.
Eddie's funny comment about the girl eating salad might let you think that he would not in any way follow a diet plan! Well, may be, as the truth is not yet un-revealed. Eddie did not create any shapely news unlike his ex-wife Nicole Mitchell who at the age of 43 and being the mother of five children surprises the world with her abs or his daughter Bria Murphy who made a shocking claim that models eat Cotton Balls soaked in orange juice to maintain fitness.
But what we could know about this 53 years old star's fitness routine is that he works out daily doing Metcon Crossfit. He does double unders, mountain climbers, snatches, cal rows, burpees to target and running to keep him fit.
Do you enjoy watching Eddie Murphy? Do you think he has ever had a problem with his weight? Have you tried the Metcon Crossfit routine? We would love to hear your comments!
Photo Information: This photo is provided by and given credit to David Shankbone on Flickr.com. To read more about Creative Commons Licensing, please visit here.