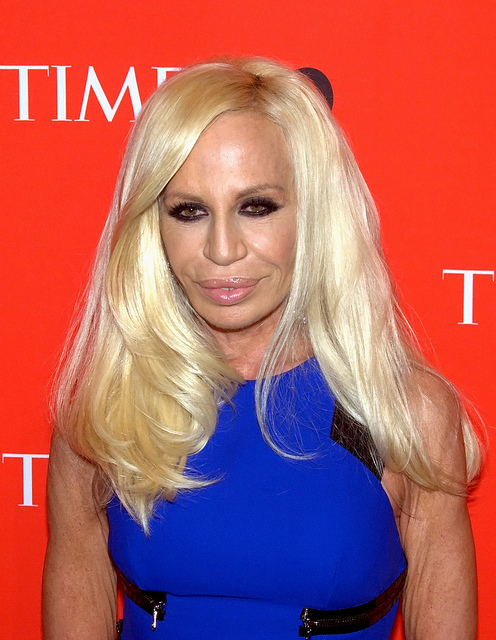 How Much Does Donatella Versace Weigh?
Donatella Versace weighs close to 115 pounds.
How Tall is Donatella Versace?
Donatella Versace is approximately 5'5" in height.
What is Donatella Versace's Bra Size?
Donatella's bra size is approximately 34B.
About Donatella Versace's weight:
Donatella Versace is a 59 year-old Italian fashion designer and current Vice-President/Chief Designer of the Versace Group. During the 1980s, Donatella's sibling, Gianni Versace launched a fragrance devoted to her, Blonde, and gave her own distribution label, Versus. Versace took over the brand's design after her brother's tragic murder.
With regards to Donatella's weight, she does cardio and weights for 45 minutes, four days a week. She does not only think that exercise is important, but it keeps you and your state of mind in shape. According to her, she is not fanatical about her rigorous exercise regime but as with most things in her life, she believes you should try to enjoy yourself and never feel like you are a slave to a routine.
Donatella's diet is fit for her tight schedule. Basically, she eats vegetables and fruits. For a quick breakfast, she eats fruit salad accompanied by a fruit juice. Being Italian, she obviously prefers coffee to tea, and in the morning it will be a cappuccino. Later in the day, she will drink espressos and lots of water with ice and lemon. For lunch, she would normally eat salad with protein, especially fish. On dinner she enjoys simple Italian food like pasta and grilled fish.
The fashion designer has pointed out that she was afraid of gaining weight at one point in her life, but in the end, she lost weight. She started a diet with no carbs — just lots of protein, lean protein with just vegetables. She has her cheat days, too!
We are all aware that Donatella is very conscious of her psyche. What can you say about her fitness lifestyle? Considering the fact that she under the knife of a surgeon, what is your perception in keeping her body young in shape? Don't be afraid to air out your comments in Celebrity Weigh In!
Photo Information: This photo is provided by and given credit to David Shankbone on Flickr.com. To read more about Creative Commons Licensing, please visit here.